THE MORE BIOAVAILABLE COLLAGEN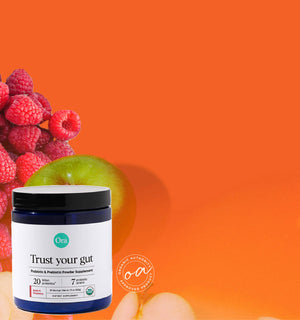 Support Your Gut with Ora Organic's
Trust Your Gut
Probiotic &
Prebiotic Powder
IN DELICIOUS APPLE RASPBERRY FLAVOR
Wellness Inspired By Real Women
Organic Authority's shop is a new approach to everyday wellness that's powerfully healthy, fun, and progressive for women who take the lead in their own life.
Organic Authority Approved
Transparent Supply Chain + Sustainability
All products on Organic Authority are Organic Authority Approved.
A rigorous evaluation and approval program that takes on the challenge of researching, experiencing, and recommending only those products that truly deliver in terms of their ethos and efficacy.
LEARN MORE
Reviews
This stuff is AWESOME
I've been experimenting with different collagen brands for a few years now, and this is the best one by far. The other brands I've tried are all bovine (cow) sourced collagen peptides. I'd never tried marine sourced before so I was curious. The difference in my skin, hair and nails is noticeable, It mixes super well (and even makes my coffee a little creamy My nails are growing like crazy and are definitely stronger. And my skin feels like it is retaining moisture better—even after being in a dry climate for a week. Highly recommend!
Monica on Mar 02, 2022
The best collagen I've ever bought
This collagen tastes so much better in my coffee because I don't actually taste it! I do feel it absorbs better because after a few weeks I've noticed my skin feels less dry and looks more supple. This is a definite thumbs up after having tried so many other brands.
Carol on Mar 01, 2022
My skin glows!
Since I have been using this product I have noticed a measured improvement in the health and texture of my skin. My skin is glowing. It feels so good to know that I am giving my skin and hair wonderful food. I loved that there is no flavor because I add to my coffee, Morning shake, tea etc. And I know I can trust this product because it has the oa stamp of approval. Thank you for this wonderful product.
Sarah on Mar 04,2022